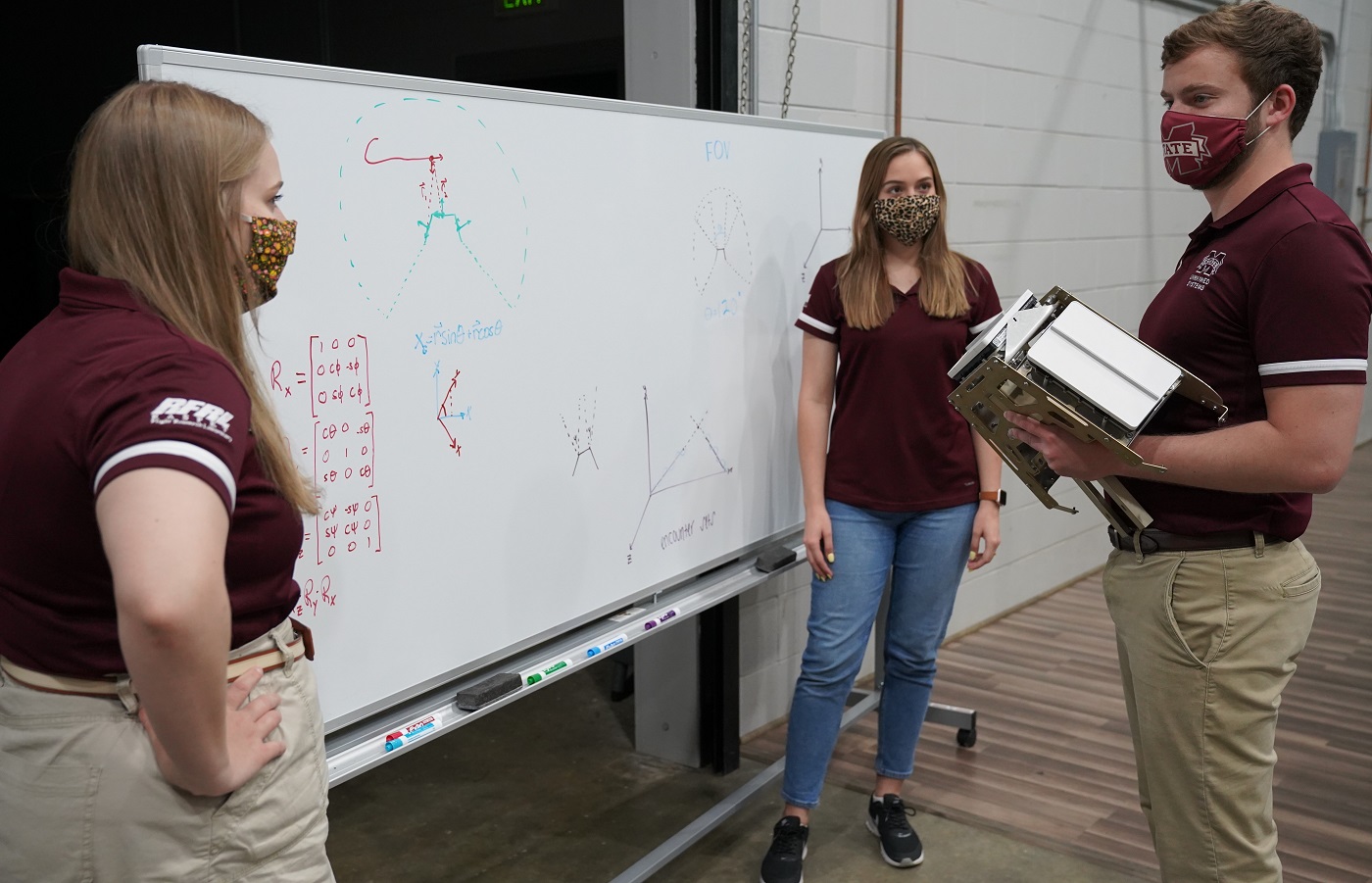 STARKVILLE, Miss. – Three aerospace engineering students awarded employment stipends by the Mississippi Space Grant Consortium are among the 17 students scheduled for part-time work at Mississippi State's Raspet Flight Laboratory during 2021.
Megan Patrick, of Gainesville, Georgia; Clay Spaulding, of Hampton, Virginia; and Chris White, of Forest, Mississippi, each averaged 15 hours of employment at Raspet during the spring 2021 semester. The trio worked alongside Raspet personnel on some of the most pressing research challenges facing unmanned aviation, including detect and avoid standards, remote identification, and acoustics.
"From day one, our student researchers get practical experience on engineering and aviation projects to help prepare them for their next professional steps," said Tom Brooks, director of the Raspet Flight Lab. "We appreciate their contributions, and we're thankful we can add to the mentoring they receive at MSU."
The Consortium's mission is to enhance and support aerospace science and technology efforts and activities in Mississippi as well as promote a strong science, mathematics, and technology base at precollege, undergraduate, and graduate levels within the region's educational institutions. 
Kyle Ryker, a Raspet research engineer who also serves as the lab's faculty and student coordinator, worked with Adrian Sescu, an associate professor in MSU's department of aerospace engineering, to arrange the students' employment.
White said his time at Raspet enabled him to contribute throughout the complete cycle of tasks.  
"I really enjoyed getting handed an assignment, working with it and seeing it through to completion," White said. "I feel this experience has helped me to branch out and learn new skills and tools that will benefit me as I continue my education here at MSU as a graduate student."
Patrick said she most enjoyed the teamwork associated with Raspet's research on unmanned aircraft systems, known as UAS.
"The most rewarding part about working at RFRL was getting to explore the possibilities of UAS's in a team environment," Patrick said.
In addition to its full-time professional staff of more than 20, Raspet regularly employs undergraduate and graduate students both within and outside the auspices of the Consortium. This semester and in the next two semesters, Raspet's 17 students will have contributed to 10 different research projects.
Spaulding said he appreciated the opportunity Raspet provided to apply what he learned in his aerospace engineering classes.     
"Working at Raspet allowed me to immerse myself into an environment that is striving to define the future of aviation," Spaulding said. "I enjoyed the opportunity to be a part of that future and apply the knowledge that I have gained through the ASE curriculum."
Raspet has a history of frequently hiring its top students, following their graduations, for full-time, professional positions when slots are available.
MSU's Raspet Flight Research Laboratory is the nation's leading academic research center dedicated exclusively to the advancement of Unmanned Aircraft Systems. Raspet is the only institute in the world designated both as the FAA's UAS Safety Research Facility and as official UAS Test Sites for both the FAA and the U.S. Department of Homeland Security. Home to a fleet of the largest and most capable unmanned aircraft in academic use, Raspet conducts UAS research on behalf of federal agencies and commercial industry alike, and it remains a world leader in composite materials research.