Image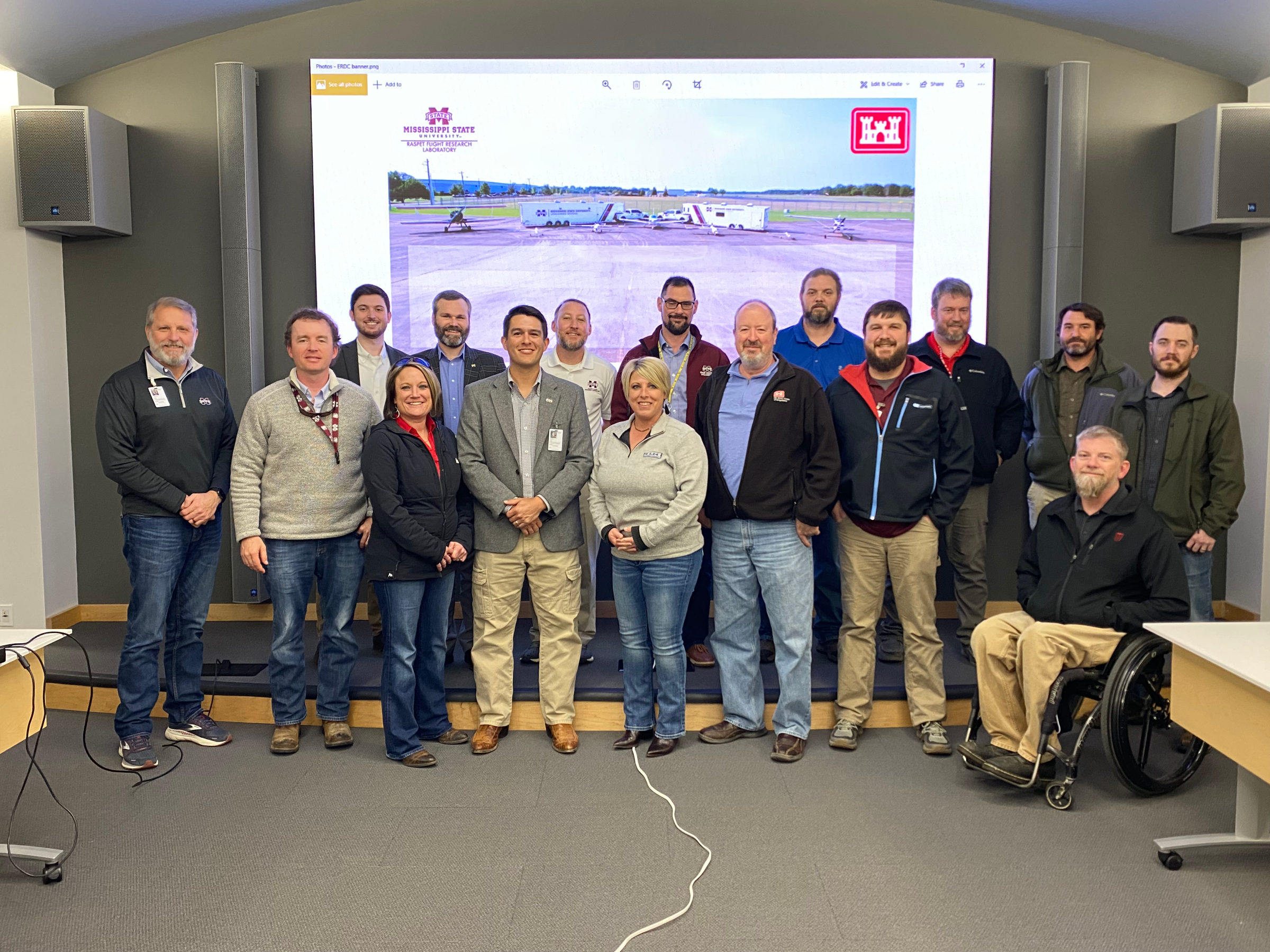 VICKSBURG, Miss. – Mississippi State representatives, including members of the Raspet Flight Research Laboratory, toured the U.S. Army Corps of Engineers Engineer Research and Development Center headquarters in March to discuss the two group's shared interests and expertise in unmanned aircraft systems.
The Corps' research unit, known as ERDC, uses unmanned aircraft systems, or UAS, as a strategic technology enabler with geospatial engineering research, disaster relief, facility maintenance assessments, natural resource/environmental monitoring and paved surface evaluations.
"Our recent visit to ERDC was insightful, and we came away with a new appreciation for the many ways this organization uses UAS to tackle the toughest challenges in warfighter support, civil works, installations and others," said Tom Brooks, director of the Raspet flight lab. "We look forward to continuing to learn from one another and to potentially finding new research initiatives, including the expanded use of large UAS, we can explore together."
Both ERDC and MSU possess significant operational capability and scientific expertise in robotic UAS, and, through numerous fundamental and applied research programs, both groups lead innovative research efforts to advance the integration, application and adoption of UAS technology.
"Additional collaboration between the two organizations will create a powerhouse with integration of new sensor technologies on large UAS systems, along with subject matter experts and professors in the field of unmanned operations," said Jenny Laird, ERDC's UAS program manager.
MSU's Raspet Flight Research Laboratory is the nation's leading academic research center dedicated to the advancement of unmanned aircraft systems. Raspet is the only institute in the world designated both as the Federal Aviation Administration's UAS Safety Research Facility and as official UAS Test Sites for both the FAA and the Department of Homeland Security. Home to a fleet of the largest and most capable unmanned aircraft in academic use, Raspet conducts UAS research on behalf of federal agencies and commercial industry alike, and it remains a world leader in composite material research.
MSU is Mississippi's leading university, available online at www.msstate.edu.