Image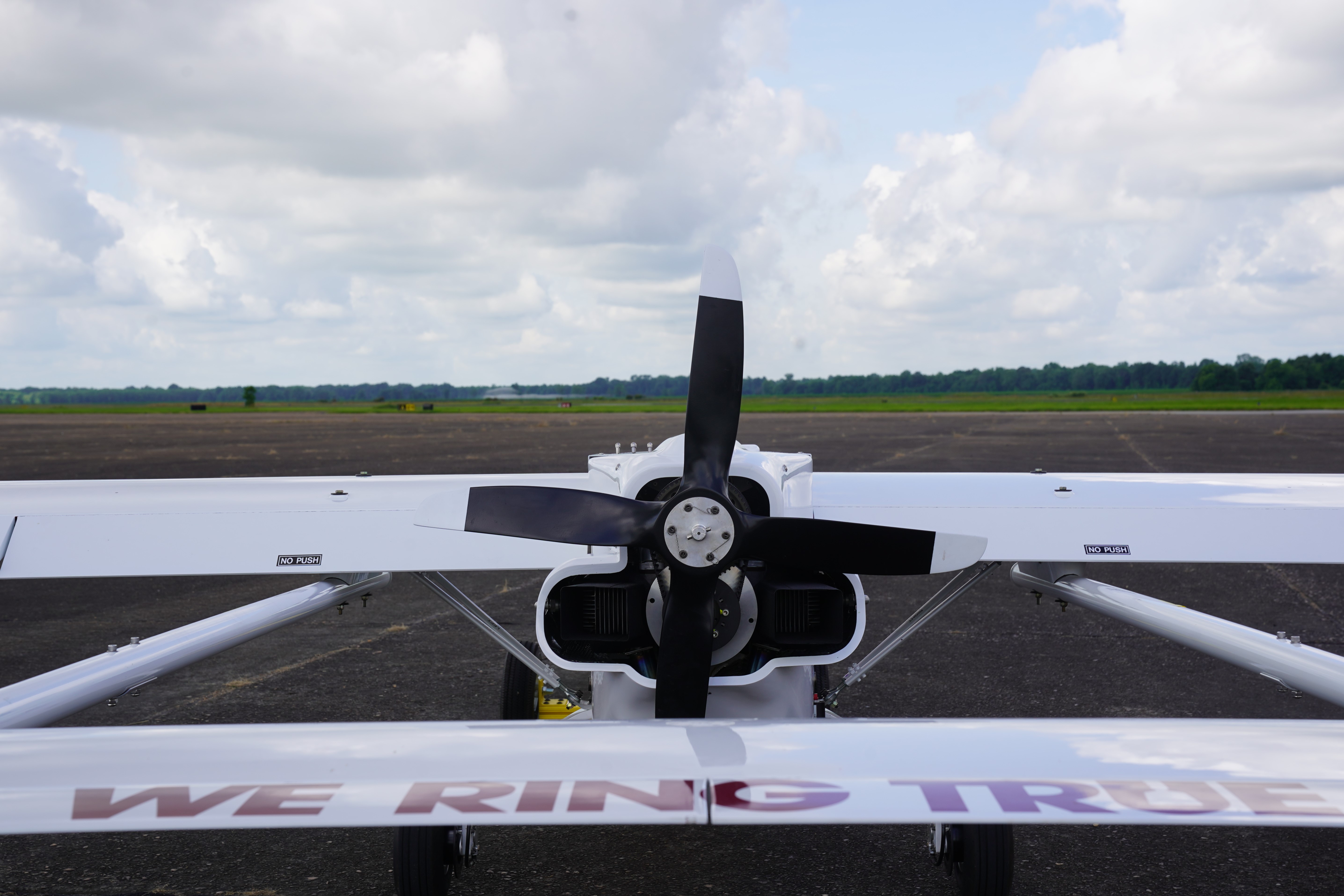 Contact: Nicole Thomas
STARKVILLE, Miss.—Researchers at Mississippi State University's Raspet Flight Research Laboratory quiet the deafening roar of TigerShark with a modified version of the Group 3 uncrewed aircraft system (UAS) known as QuietShark.
Tasked by the U.S. Department of Defense to develop a cooler, quieter and more efficient UAS to support military operations, Raspet's research engineers designed QuietShark to accomplish the mission.
"As originally constructed, the acoustic properties of Group 3 UAS are not well-suited for covert or near-stealth operations limiting use for military maneuvers," Raspet's Associate Director of Research Engineering Caden Teer said.
Raspet and Navmar Applied Sciences Corporation (NASC), the TigerShark original equipment manufacturer (OEM), collaborated to evaluate various methods to reduce the aerodynamic and mechanical noise of the TigerShark.  Engineers ultimately decided to target improvement of engine exhaust, engine intake, and propeller blades to develop QuietShark.
To get started, Raspet engineers designed and built an acoustic anechoic chamber inside the flight lab to accurately measure precise sounds, including propeller noise.
"With an electric motor mounted to a test stand at one end of the chamber, we attached various propellers to the motor and turned them at different revolutions per minute (RPMs), which allowed engineers to evaluate the noise associated with the propeller while independent of the mechanical noise source that would be attributed to a reciprocating engine," said Raspet Flight Lab Director Tom Brooks.
Unlike the noisy TigerShark with a two-blade propeller, QuietShark is equipped with a four-blade propeller that turns at a lower RPM. During ground and flight testing, the QuietShark maintained the same level of flight performance as the standard TigerShark while reducing overall noise and perceived loudness.
"The purpose of this work is to create the ability to fly undetected at lower altitudes," said Brooks. "If you can fly undetected at lower altitudes, your sensor resolution is higher, and you can pick out better details. We, along with our research partners, are ensuring the reconfigured airplanes remain mission-capable."
The aircraft exhibited an overall noise signature reduction of more than 75 percent compared to a standard TigerShark. Researchers also recorded an almost 20 percent reduction in perceived loudness above ground level (AGL) altitudes below 1000 feet, a metric that increases the aircraft's ability to operate quietly at low altitudes. 
The QuietShark system, which can be retrofitted to other TigerShark aircraft, also includes modifications to the exhaust and drive systems and measures to dampen heat. During testing, the QuietShark measured to have a temperature signature nearly half that of the standard TigerShark configuration.
Lessons learned from the research could also have non-military applications, such as allowing UAS to survey crops or deliver packages more quietly, resulting in fewer disturbances for those on the ground.
MSU's Raspet Flight Research Laboratory is the nation's leading academic research center dedicated exclusively to the advancement of Unmanned Aircraft Systems. Raspet is the only institute in the world designated both as the FAA's UAS Safety Research Facility and as official UAS Test Sites for both the FAA and the U.S. Department of Homeland Security. Home to a fleet of the largest and most capable unmanned aircraft in academic use, Raspet conducts UAS research on behalf of federal agencies and commercial industry alike, and it remains a world leader in composite materials research.
MSU is Mississippi's leading research university, available online at msstate.edu.